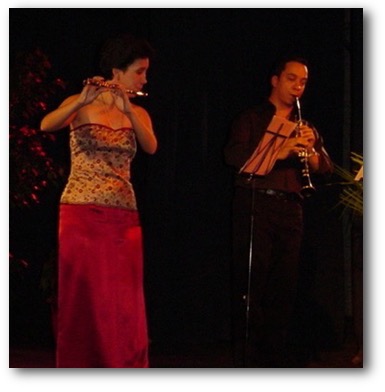 « Federico Palacios stands today as one of the best uruguayan clarinettists of his generation. »  ( DNA ) 
« Federico's interpretations are always fresh, engaging and moving. His refined taste and beautiful sound make every piece he plays shine and come to life. » 

« His superb sense of phrasing coupled with his wonderfully fluid technique makes his performances inspiring! »  ( Scott Kurtzweil )
A passionate soloist and chamber musician, Federico moves through different genres and styles such as classical and contemporary music, freestyle improvisation and traditional sort.
An assiduous explorer of unknown works and composers, he has succeeded in the last years to expand his repertoire through exhaustive research. This has afforded him the ability to debut in each of his concerts at least one piece of previously unrecorded material and influenced the release of his first album, "Yvi Piahu" (New Land) which boasts the first historical recording of six pieces by Latin American composers.
His accomplishments include a Maîtrise in clarinet of Strasbourg's Univeristy, three music degrees in Clarinet (Uruguay, France and Greece), two Juvenalis Awards, a Strasbourg Philharmonic Orchestra Award and several special mentions in his  impressive career. He studied with world renowned clarinetists such as Francisco Martino, Denis Tempo, Armand Angster, Richard Stoltzman and Stanley Drucker who described Federico's first album as "Great Recording!"
Former clarinetist at the Philharmonic Orchestra of Montevideo (Uruguay) and Philharmonic Orchestra of Athens (Greece), Federico has also performed as a soloist in France, Germany, Luxembourg, Greece and Uruguay. 
He founded the ensemble "Mo" , the "Notias" quintet, the "Balanço do Morro" and "Nota de Choro" quartets and the trio "Corda di Vento." He has world premiered musical works for solo clarinet, clarinet with piano and clarinet with orchestra.
Mr. Palacios is today Silverstein® a Gonzalez® and Selmer® artist. He teaches at the Conservatory of Freyming-Merlebach as in other several music schools of Alsace and Lorrain (France). He is also soloist at the ensemble « Mo »  in France.
Federico plays with this brands:
« Gonzalez' reeds 
help me perfectly create 
my own world of expression 
and sound » 
« I'm always very happy
 to play with the Cryo ligature,
 it's just amazing! » 

« Selmer clarinets fits exactly
with my conception of sound.
Their clarinets allow me to be authentic,
to be one, to be myself  »